One can never describe the joy which a loving dog can bring to his owner. He stays awake to watch over you while you sleep. He lays on your slippers to make sure you can't sneak out on him. He licks your face to wake you up in the morning. Sometimes, he can hand over the day's newspaper with his mouth. And when you leave the house, he waits for you by the gate until you return. All these make your dog your best friend.
You can be your dog's best friend too if you attend his needs and give him attention. But, the best way to be your dog's best friend is to be aware that your dog needs other friends too. Nope, we are not talking about other dogs.
Your dog needs a caring vet and friendly groomers.
Veterinarians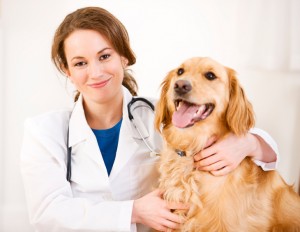 Just like people, your dog needs immunization to protect him from the common dog diseases. The regular visit to the vet is one way of assuring your dog's optimal health.
The sooner you take your dog to the vet, the better. Dogs receive immunization at an early age. Your vet is the best person to schedule all the vaccinations and the needed boosters for your dog as well as advice you about the deworming process.
Deworming is the one that needs the most immediate attention because lack or delayed deworming has caused a lot of puppies' lives.
There are vets who are very meticulous that will perform diagnostic tests that may include fecal examinations to check for internal parasites and blood tests to check for diseases. All of these assure you that your vet is after your dog's best health and your best interest.
The best way to look for a vet is by asking friends and neighbors who share the same pet care philosophy that you do. And when you do get a recommendation, check for accreditation by the American Animal Hospital Association. Accreditation from the AAHA will tell you that the vet clinic is meeting the standards set in the areas of facility, equipment and quality care.
If you are looking for the most qualified vet, then ask about board certification. Having one means that the vet has studied an additional 2 to 4 years and has passed a rigorous exam.
After this qualification factors, the other things that you are looking for in vet is proximity and accessibility. This will make sure that you won't have problems in making those regular visits.
And, you should also look for personality. Your dog will take you as you are but won't extend that tolerance to others. Choose a doctor that will hit it off with your dog so that your dog's sessions with the vet will always be comfortable.
Groomers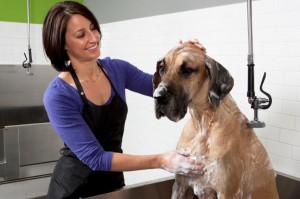 Apart from our regular visits to the doctor, humans maintain cleanliness and proper hygiene to ensure optimal health. Just as we need overall body and dental care, dogs need those too.
It is not acceptable to think that a dog, being an animal, was meant to be dirty as it was originally expected to live in the wild. Dogs, like humans, need to be clean and hygienic to stay healthy.
Apart from the regular baths, we need to brush our dog's teeth, check under the fur and ears for fleas and ticks, cut their nails and trim their fur. While we can do this much on our own, we could also seek the services of some of our dog's potential best friends; the groomers.
At the moment, some states are already righting bills to require licensure for groomers. But as for now, anybody can be a dog groomer with just a bar of soap, a pair of scissor and a clipper. But, there are big establishments like Petco that require their groomers to undergo training in proper dog handling.
Given this lack of standardization in the pet grooming industry, you should be more particular in choosing a groomer for your dog.
A good dog groomer should be first and foremost, a dog lover. Taking care and loving dogs should be second nature to your chosen groomer. A dog lover will never leave your dog unattended and unsupervised. The groomer should be aware of the little things like making available a supply of fresh drinking water so your dog will never be left thirsty.
A good groomer will give that extra effort to establish a pleasant relationship with your dog so his grooming experience will be pleasant as well.
Unselfish love
Dogs are man's best friends indeed for they will love you whether you love them back or neglect them. Loving them back will require other people. Be your dog's best friend by letting others in to the relationship. Remember; choose the most competent and caring vet and the friendliest groomers. Along with your personal attention, it's the best way to tell your dog that you love him.